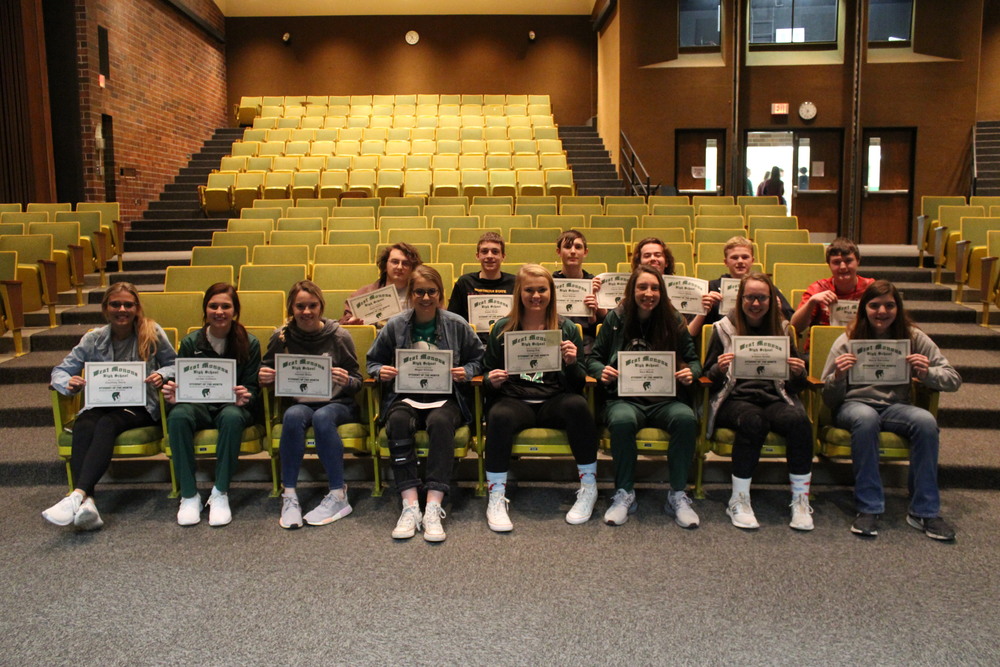 West Monona HS Students of November
Heather Nelson
Tuesday, January 14, 2020
November West Monona HS Students of the Month
Ms. Brockman for Kristina Schild - Kristina comes to choir every day with a smile on her face. She has come to every lesson she's been scheduled for and has a positive attitude every day. She really brings light to our class and a light to my day each morning. She is also a very positive role model for other students in the classroom.
Mr. DeRocher for Sara Maule - Most students look for easy ways out. It is amusing when a student approaches me and tells me they have their math credits and are done with math. I also hear students say that they are getting all of their math done so that they can have an easy senior year. Then, there are those students that choose the more difficult path now to make the future easier. Sara has chosen to not only to take every math course we offer, which includes Calculus this year but is also doubling up and taking an online college math course. For this reason, Sara is my selection for the student for the month of November.
Mr. Donnelly for Novie Stanislav - Novie is recognized for her quiet spirit, determined purpose, and the responsibility showcased by her school work.
Mrs. Doorenbos for Hannah Miller - Hannah has a great work ethic in class and comes prepared to learn. She puts in extra effort to study for quizzes and asks questions during class when she needs help. She challenges herself and doesn't just give up when she gets too tough problems. I appreciate her attitude in math class!
Mrs. Fox-O'Reilly for Trevor Storm - "When we seek to discover the best in others, we somehow bring out the best in ourselves." - William Arthur Ward Thank you for your leadership in the classroom, Trevor Storm, and for bringing out the best in others. Your enduring kindness and encouragement for others fill a room!
Mr. Groves for Aiden Bosanek - Aiden has earned this honor because of an outstanding work ethic. Quality work on a challenging project and his willingness to help others whenever they need it.
Mrs. Mann for Megan Nichols - I have watched Megan interact with elementary students during the FCCLA cooking schools. She does an outstanding job with teaching kitchen skills, practicing those skills with the students and helping them to make basic snacks.
Mr. Moore- Kaden Broer - Kaden exemplifies what it means to be a student-athlete, and live a championship lifestyle. He gives his best effort all the time. It doesn't matter if it is math, lifting, or wrestling; he will compete to the best of his ability.
Mr. Pash for Evan Meadows - Evan has been a leader by example for my Freshman group. Evan is always available to give a helping hand and to encourage his fellow classmates. One of the first to arrive and last to leave, Evan takes pride in keeping the weight room clean and looking good when everyone else has left.
Mr. Pitt for Jordan Collison - Jordan works consistently to achieve high-quality work. She has been a positive classroom influence. Her attention to detail is appreciated and will serve her well in the future.
Mr. Potter for Courtney Davis - She does very well in all aspects of my class. Courtney actively participates, listens to instructions, and does consistently excellent work. She understands what we are studying and is willing to learn with a positive attitude. Courtney is a lot of fun to teach.
Ms. Rewinkel for Emma Pitt - Emma has shown to be very hardworking and ambitious. She comes in to get help when confused, completes work before deadlines, comes in early in the mornings when needed, creates study tools that many classmates utilize and has an upbeat attitude throughout the class. She demonstrates a great work ethic each day that will only benefit her and add to her success after high school! Keep up the hard work Emma! It does not go unnoticed!
Ms. Shaw for Hannah Towne (not pictured) - Hannah is always demonstrating to the class how hard she works to be a positive and contributing member to the band. She is the first to help her classmates and is always striving to better her own playing.
Mr. Stegge for Reid Reicks - Reid has consistently shown his desire to learn while at school. This year with projects he has put in the extra effort to truly understand complex topics of science that were the basis for Nobel Prizes in the past. It has been fun to watch him grow academically into enjoying various topics that he typically wouldn't be of great interest to Reid. He has grown into a more concrete thinker which will lead to success in college
Ms. Stump for Reid Warner - Reid is an extremely bright student. His inquisitive nature is appreciated in class because he is never shy to ask good, thought-provoking questions that end up enhancing the learning of the entire class. He is also a determined young man who strives for excellence, thus being a wonderful role model!
Ms. Trout for Bryannah Sidwell -This student is always on task, gets her work done on time, is a peer leader and peer teacher. Thank you so much, Bryannah Sidwell, for your positive attitude, strong work ethic, and demonstration of leadership in Accounting.
Ms. Wedeking for Paisley Steen - Paisley has improved greatly this month. He has been coming to class with a more positive attitude and has been putting more effort into his work each day. He has been asking questions and is more involved with the class. His extra effort is paying off in the classroom.
Mr. Zeleny for Trevor Storm - He is a diligent worker who takes his work above and beyond expectations. He will actively participate in group discussions and can often be relied on to know the answer to a difficult question when nobody else does. This person turns his work in on time with a high level of quality and effort. He works well with others and adds to a positive academic environment