The IGHSAU has released the regional final information. The Spartans will travel to Harlan to face Mount Ayr on Monday at 7:00. Let's take a big crowd and support the girls as they play for a spot in the state tournament!

Spartan softball wins the regional semifinal 14-5 over AHSTW! The Spartans advance to the regional final vs Mount Ayr on Monday, July 15. The winner advances to the state tournament! Spartan PRIDE!!

There has been a change in the regional softball schedule for Friday night. We will now host a doubleheader in Onawa. Ridge View vs Ar-We-Va at 5:30 pm West Monona vs AHSTW at 7:30 pm Remember admission is $6 for everyone and no passes are accepted.

The softball team opens regional play tonight at home vs IKM-Manning at 7:00 pm. Go Spartans! Remember that admission to all regional games is $6 per person, no passes accepted.

Softball will play varsity first tonight due to the possibility of rain this evening.

Spartan baseball had another walk-off win in the WVC tourney! Tonight they beat Ridge View, 7-6. Nate Carrigan beat out an infield single and JJ Lander scored from second to win the game! Spartan PRIDE!!

Spartan softball dominated Saint Albert, 13-0 in three innings! Megan Bonham hit TWO home runs in the win! Spartan PRIDE!!

Spartan baseball defeated Westwood 8-7 in the WVC tournament. Spartan PRIDE!!

The Spartan baseball team lost to OABCIG, 5-3, in a well played game by both teams.

Spartan softball lost a close game to Ridge View, 3-0 in the WVC semifinals. Spartan baseball won the second game over Whiting 10-0!

Spartan baseball scored 8 runs in the seventh to come back and win game 1 over Whiting, 13-9! Spartan PRIDE!!

The Spartan softball team will play Ridge View in the semifinals of the Western Valley Conference tournament tonight. The game will start between 5:30 and 6:00 at Correctionville. If the Spartans win, they will play immediately afterwards in the championship. Spartan PRIDE!!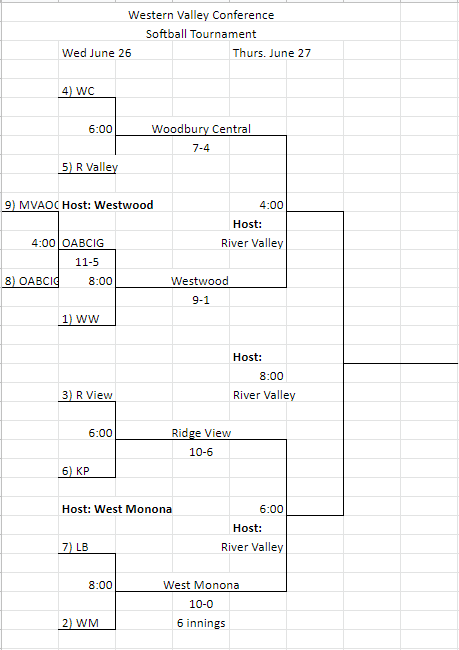 Spartan softball will host the first round of the WVC tourney today. Game 1 will pair Ridge View and Kingsley-Pierson, starting at 6:00. The Spartans will then face Lawton-Bronson. The start time will be between 7:30 and 8:00, depending on the first game. The baseball team will also host MVAOCOU in a conference game, varsity at 6:00. Come out and support the Spartans!

The Spartans celebrated Senior Night with two wins over River Valley! Baseball won 3-1 and softball won 8-4! Spartan PRIDE!!!

Cross country summer running will start on Monday, July 1st. Meet at the football field at 7:30am.

Spartan baseball fought until the end, but lost 6-2 to Lawton-Bronson.

Spartan softball defeated Lawton-Bronson, 7-4.

Softball tonight will play varsity first with a 5:30 start time. Baseball is currently staying at 6:00 start as we try to get the field ready.

Reminder that both baseball and softball play at Whiting tonight, varsity starting at 5:30 pm.

Wednesday, June 19, will be youth sports appreciation night at the HS baseball/softball games. Any West Monona youth baseball/softball player wearing their jersey will be admitted for free and will be recognized before the game.